Events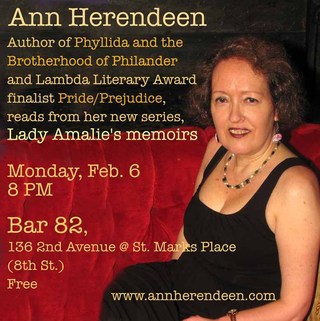 I've been accepted to the Yale Writers' Conference, June 4-19. Workshop with Porochista Khakpour; master class with Lev Grossman; study of cross-genre fiction with Kirsten Bakis. It doesn't get better than this!

My latest work is a 10-minute performance piece.
Video link is at the top of the Home Page, above my photo.


Friday, Sept. 6, 2013: Poetry, Monologues and Songs:
Personal Remembrances of 9/11
Video link is on the Home Page.

Radio interview with Janet Restino on her show, Heart & Soul, is the second link at the top of the column on the Home Page.

I only just discovered, five years after the fact, that the Author's Note, one of my better efforts of nonfiction, was left out of the e-book of Phyllida and the Brotherhood of Philander! HarperCollins will be releasing a complete e-book shortly. But for those of you who already bought the e-book, I am posting the essay as a (long) blog post here and on my LiveJournal.

The video of my reading from Birth, Book 4 of Lady Amalie's memoirs, is here (see link above):
We Three Productions, a series of biweekly readings at Bar 82 on Monday nights.
Credit to Efrain Gonzalez for his camera work.

My queered version of the Cinderella story, A Charming Menage, is available in the 4th anthology from Gay City: At Second Glance.

Retribution, Book 6 in the ECLIPSIS series of Lady Amalie's memoirs (e-books), is now "live" for Kindle, Nook and all other formats. Check out the fabulous new cover design!

See the "Selected Works" section (at right) for Recognition, Choices, Wedding, Birth and Captivity (Books 1-5).

My article, 'Banished Children': Jane Austen and the Village Wet Nurse, is on p. 8-9 of the fall issue of the JASNA-NY newsletter.

Pride/Prejudice was honored to be named one of the five finalists for the Lambda Literary Award in the Bisexual Fiction category.

You can see (and hear) my five-minute reading on a program of twelve Lambda Award finalists at Bluestockings Bookstore and Cafe on May 12. Efrain Gonzalez shot the video. (See link above.)

The podcast of my interview on Bi Talk Radio is now available (see link above).
Below are some photos from the Bilicious Show in Boston, in September of 2010.

Credit for photos: Helene Norton-Russell Photography

The complete set of photos, including: performers Rob Barton, Michael Monroe, and Robin Renee; producer Susannah Layton; and Bisexual Resource Center's Ellyn Ruthstrom, are on the Bilicious Facebook page.
My alter ego, Lady Amalie, the author and performer, begins a series of readings from Pride/Prejudice. These short segments (under ten minutes) are available on YouTube and Facebook.I'll try to add a chapter each week.